"Look deep into nature, and then you  will understand everything better."
–Albert Einstein
Albert Einstein said "Look deep into nature, and then you will understand everything better." My work has always been involved with a search into nature for the unique forms found there.
When I moved from New York City to the rural northeast corner of Connecticut, the vastness and beauty of the land and sky captivated me. My images began dealing with the moving, majestic, aliveness of the sky and the land. They took on a spiritual quality with a meditative stillness as well as reflecting the force and vigorous action in nature. Luminous energy effects on the clouds and reflections on the landscape are explored through a combination of reflected, direct, filtered and backlighting situations. A beautiful landscape can be a dark one introducing the element of mystery, the notion of magic and the supernatural powers of natural forces.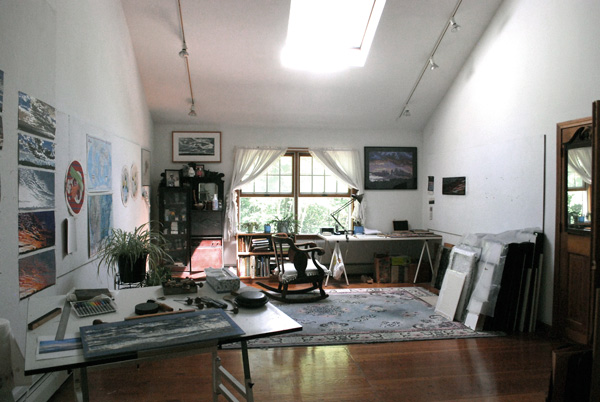 These series of images explore the boundless space of the sky infused with light disappearing into the unique contours various horizons. The horizon is used to divide the picture plane and suggest an impression of the flora and fauna of that site. The gestural color marks express the forms, movement, light and atmosphere. An environment that is easily accessible for the viewer to enter and perceive is created. It is there that the viewer's feeling and emotions are encouraged to emerge.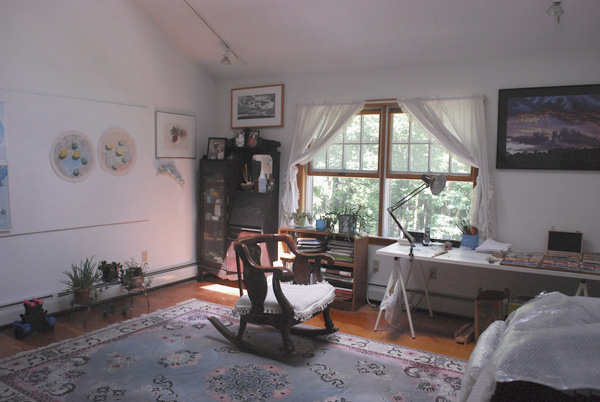 Absorbed in understanding the inherent order in nature, I transform it into my personal view of its logical units. The composing of these images deals with complicated figure-ground relationships where intervals of line, color and value become important factors in penetrating the surface of the picture plane. The marks both symbolic and representational draw the viewer into the essence of the forms transformed to give a sense of something greater and impending. There the viewer is invited in to explore the sensual and provocative forms hidden nature.